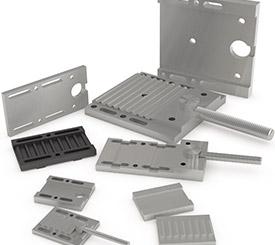 While the clamping connectors only allow easy attachment of the belt ends, the clamping plate can also be used to adjust the preload via a clamping unit.
The different variants A, B and C specially optimised for the load are available to the user within a complete clipboard system for the individual belt types and belt widths. The corresponding assignment is shown in the table in the section with clamping plates.
The different variants and subcategories provide absolute clamping protection together with optimum handling and assembly thanks to their design. Supplying a complete system with base plate, toothed inserts if required, top plate, clamping unit and standard component accessories saves the user from having to assemble and coordinate the individual components in an uncomplicated way. The use of high-quality polyamide toothed inserts in the Type B clamping plates also allows production costs to be optimised. This results in a system with a very good price/performance ratio in general.

Variant A is divided into types 1, 2 and 3. Type 1 is supplied without bores and clamping unit, which means that it offers freedom of structural design, while it is possible to attach the belt end without additional movements of the "fixed" clamping position. Type 2 provides the clamping unit and long holes for tensioning the timing belt drive. It is then necessary to attach the Type 2 clamping plate to the machine frame. Type 3 is typically intended for "free suspension" of the belt tension on the clamping unit. A protection which may be necessary against rotation and movement must be provided by either fixing the clamping unit itself or corresponding limiting or guiding elements in the vicinity of the clamping plate.
Variants B and C are generally suitable for both connection to the machine frame, 'fixed' and 'freely suspended', and are available in the version 'without clamping unit'.