Conveyor Belts
NK Technics endeavours to cover all market needs for conveyor belting and does so by having an wide range of products. PVC, Polyurethane, Polyester and Silicone.
All of the PU types have the following conformities: EU/EC , FDA 21CFR and Halal Certificated.
All of the PVC types have the following characteristic's:  Anti Static (AS), Flame Retardant (SE) and Low Noise (S)  
All our belts are build up in the same way.
The base of the belt consists of a fabric, which is coated on the top and bottom side with polyurethane, PVC or Polyester
The belt consists of one or more layers that ensure its strength, stability and cut resistance.
We have our own standard range of conveyor belting, covering the majority of the applications that are present in today's market. Some of the markets that we supply are:
Food industry
Logisitic indystry
Airports
Karton, paper and packing industry
Wood indusrty
Textile
Recyling
Automotive industry
Agriculture and horticulture
Marble and ceramics
In our own workshop we can rework our PVC, PU and Silicon Converyors completly to your wishes.
Some of the reworkings that we can do are:
Guides
Cams
Sidewalls
Perforations
Coatings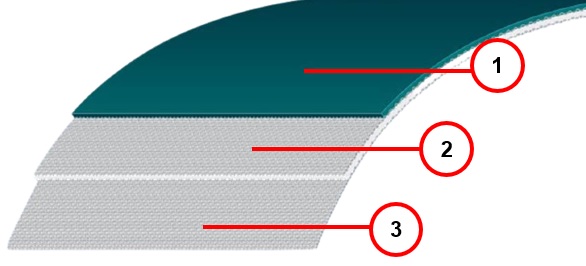 1 - Top face – Various coating materials, thicknesses and patterns determine grip, chemical, physiological and mechanical properties of the belt.
2 - Tension Member – The use of various specific fabrics largely determines the suitability for specific applications. Belt tracking properties, load/elongation properties, electrostatic properties, flatness, knife edge and curve suitability are directly dependent on the fabric construction.
3 - Underside– The design of the underside determines the noise emission, wear and suitability for sliding and/or rolling support for the belt
Nomenclature
E
8
2
U0
V5
NP
Wit
FDA

Material of fabric

Type Class

Number of plies

Underside coating

Top face coating

Surface finish

Colour

Belt property

 

 

Abbreviations

 

E

Polyester

 

S

Silicone

 

U

 

Urethane

 

V

 

PVC

 

VH

 

Hard PVC

 

0

Uncoated

 

U0, E0, A0, S0, Y0

  

 

Impregnated

Belt properties

Top Face Pattern

FDA

Food safe compliance with EC/FDA

AR

Anti-skid pattern

AS

Anti-static

GL

Smooth surface

NA

Non Anti-Static

LG

Longitudinal Groove

S

Low Noiser

MT

Matt Surface

SE

Flame Retardent

NP

Inverted pyramid pattern

 

 

SG

Lattice Pattern