Product information

 Shore hardness (A)

 92° Shore A

 Weight per meter

+/- 100 g/10 mm riem breedte

 Tensile members

 steell cords, 1.2 mm

 Minimum number of pulley teeth

 18

 Width tolerance

 +/- 1.0 mm

 Minimum pulley diameter

 111.75 mm 

 Thickness tolerance

 +/- 0.4 mm

 Minimum counter bending

 120 mm

 Length tolerance

 +/- 0.8 mm/m

 

 
NK Technics is your partner for all:
Lingl AT20 timing belts
Lingl AT20 pulleys
Lingl AT20 clamping plates
Lingl AT20 belt guides
Our AT20 Lingl timing belts are available in different lengths and widths.
Lingl AT20 tandriemen beschikbare verbindingen:
Finger splice prepared (punched)
Finger splice prepared (by water jet, for a better fit in the press)
Endless with a splice
Pin Join
Finger splice prepared (punched)

Finger splice prepared by water jet 
For some of our customers in the brickyard industry we prepare the AT20 toothed belts for endless welding on site, in our factory these belts are prepared on our waterjet machines. The big advantage of a waterblasted finger weld is that the fingers are much easier to put together in the press plate during use.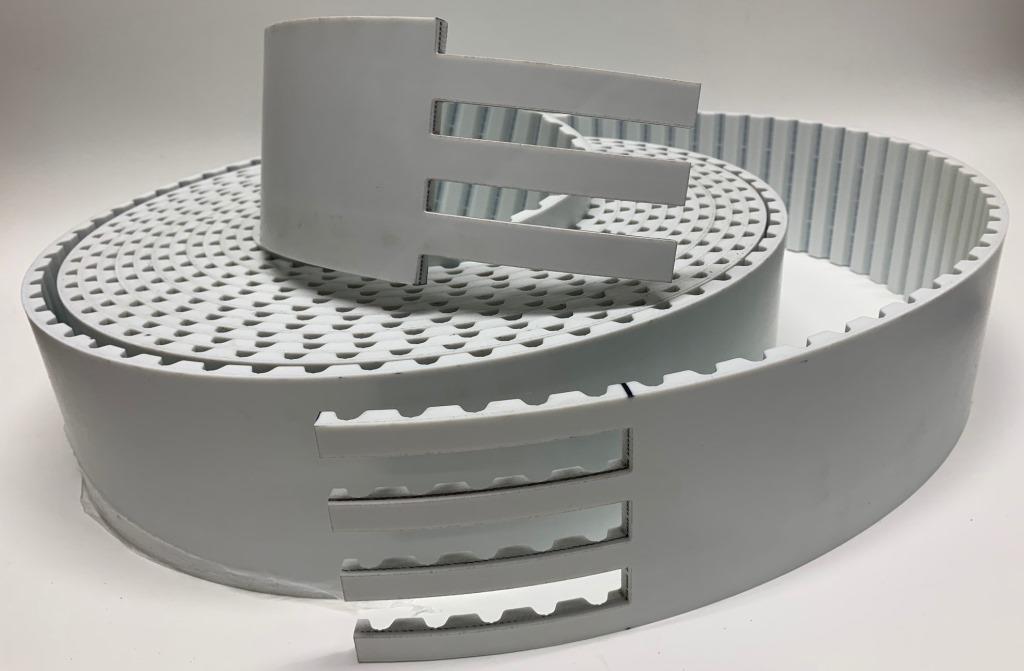 Pin Join
When endless welding of the timing belt on location is not an option we can provide Lingl AT20 timing belts with a Pin Join connector.
With a Pin Join connector the toothed belt can be mounted on location within 15 minutes.